INTRODUCING OUR VISION FOR A NEW ERA IN PHILANTHROPY. 
During our 24 year history, SVP Seattle has observed how systemic racial injustice lies at the heart of the obstacles that keep us and our entire region from thriving. In response, we're evolving how we practice philanthropy so we can address the roots of persistent racial and social inequities and help create a better future for us all.
SVP Seattle is making justice part of the learning journey. Our Partnership has always expanded philanthropic practice beyond writing checks, pioneering from our very beginning a unique approach to social impact. It is time now to use the history and the capabilities of the SVP Seattle community.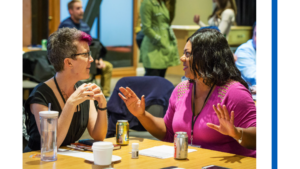 We are changing our practices, programs, and culture to ensure that Black, Indigenous, and People of Color can fully participate and have a voice in the work that SVP Seattle does. This includes equipping ourselves to work in relationships that support BIPOC communities and supporting the priorities they identify, based on lived experiences and community-based organizations' leadership.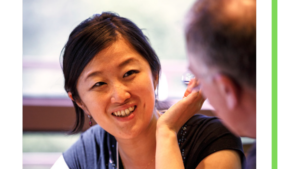 We are evolving how we practice philanthropy to incorporate techniques such as advocacy and prioritizing using wealth, power, and privilege to change unjust systems. The future state we are building now includes expanding SVP Seattle's toolbox to include collective advocacy, civic engagement, and activism. We believe advocacy must become as central to philanthropy as our existing culture of giving and service.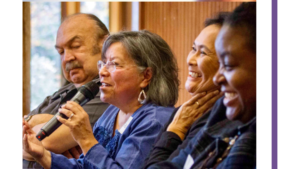 We are expanding our efforts to build a community of Partners who are committed to racial and social justice and work in authentic, trusting, and accountable relationships with community-based organizations and each other. The SVP Seattle community unites strength of purpose with humility and openness. No matter where you are on your racial equity learning journey, you will grow with us.
SVP Seattle will still pursue our current programs – grantmaking, crafting learning journeys, and offering skilled volunteer opportunities – as we realign these programs to center racial and economic inequities.
If you missed the Spring Partner Meeting, check out the event recording. During the event, SVP Seattle's Executive Director, Emiko Atherton, moderated a panel of leaders focused on transforming traditional philanthropy. Emiko also unveiled the reimagined SVP Seattle vision for the future.
We invite you to join or continue your journey with a community of Partners who are passionately committed to this work and start everywhere along the spectrum in understanding how justice and philanthropy intersect, from curious, to dedicated, to equipped to act.