SVP Seattle is a community of people and organizations working together to advance racial justice through philanthropy. We support and invest in community-led solutions that are powered by people doing the work. This includes connecting individuals who want to give their time, talent, and treasure to make their communities stronger, and amplifying the work of nonprofits through our capacity building, grantmaking, and skilled volunteering.
Our founders created Social Venture Partners Seattle (SVP) in 1997 with a radical idea – that philanthropy could mean more than just writing checks. SVP pioneered an innovative approach to social impact: creating a thriving philanthropic community that connects professionals directly to local community-based organizations. This approach attracted 1,500 Partners who worked collectively to grant over $16.2 million to 98 local nonprofit organizations.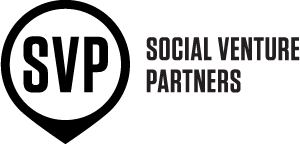 Today SVP Seattle is reimagining philanthropy again by sharing power, learning together, and activating collectively for change. The SVP Seattle community acts on shared values: collective giving, accountability, and connection to frontline leaders whose lived experiences and insights help set priorities for investment and change.