My Home is Someone's Workplace: Racial Justice, Gender Equity and Domestic Worker Rights
October 6, 2022 @ 12:00 pm

-

1:30 pm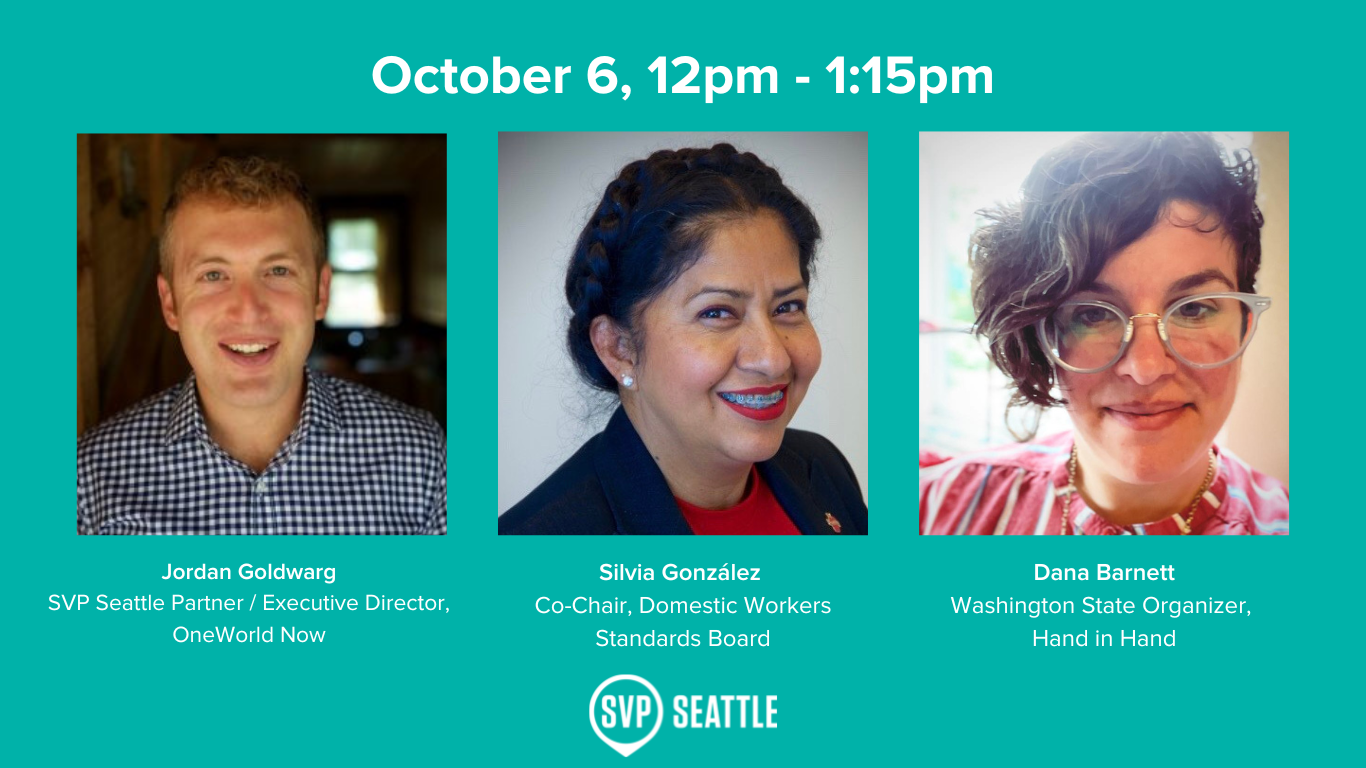 Nannies, house cleaners, home attendants and other domestic workers stand at the crossroads of racial, gender, immigrant, and disability justice. Join Hand in Hand, the Domestic Employers Network; Casa Latina; the Day Worker's Center; and SVP Partner Jordan Goldwarg on October 6 at noon to learn more about this essential workforce. This program will cover the historic exclusion of domestic workers from legal protections and rights, local and national advancements and current campaigns led by workers, and what role we all can play in supporting fair care in our homes and communities.
Mi hogar es el lugar de trabajo de alguien: justicia racial, equidad de género y derechos de las trabajadoras del hogar
Las niñeras, las empleadas domésticas, las empleadas domésticas y otras trabajadoras domésticas se encuentran en la encrucijada de la justicia racial, de género, de inmigración y de discapacidad. Únase a Hand in Hand, Domestic Employers Network, Casa Latina, Day Workers Center y Jordan Goldwarg, miembro de SVP, para obtener más información sobre esta fuerza laboral esencial. Este programa cubrirá la exclusión histórica de los trabajadores domésticos de las protecciones y los derechos legales, los avances locales y nacionales y las campañas actuales dirigidas por los trabajadores, y el papel que todos podemos desempeñar para apoyar el cuidado justo en nuestros hogares y comunidades.
SPEAKERS
Dana Barnett
Dana has been active in social movement organizations for equity and justice across various issues and campaigns. Prior to joining Hand in Hand, Dana worked for over two decades as a mediator, and race equity trainer, both on staff for organizations like the Washington State Bar Association and the Mediation Center of Dutchess County, as well as a consultant. Dana became involved with the domestic worker rights movement in 2019 and served as a member of the Seattle Domestic worker standards board where she was the chair. Dana is also a member of the Washington State Labor & Industry advisory board for ending the exclusion of domestic workers eligibility for workers compensation.
Dana and her partner are East Coast transplants in Seattle who are raising their child far away from family and support networks, and deeply appreciate the domestic workers in their lives who make it possible to hold together a household and work full-time. She is excited to continue that work as the Washington Organizer for Hand in Hand, and to keep building the domestic workers rights movement in Seattle centered around care, interdependence, solidarity, self-determination, and dignity.
Jordan Goldwarg
Jordan Goldwarg is the Executive Director of OneWorld Now, a youth development program that promotes global citizenship through a combination of world language study, leadership workshops, and study abroad. Much of his professional career has been spent helping youth unlock the leadership potential that they innately possess. A former high school history teacher, he was previously the Seattle Chapter Director of Kids4Peace International, a non-profit organization that brings together Muslim, Jewish, and Christian youth from the United States and Israel/Palestine for leadership development, civic engagement, and social change projects.
Outside of OWN, Jordan volunteers with a number of organizations, including the Washington Immigrant Solidarity Network and Common Power (a nonprofit that connects Seattle-based volunteers to on-the-ground civic volunteer opportunities–like voter registration and candidate canvassing–in states around the country). He also serves on the City of Seattle's Domestic Workers Standards Board. Jordan and his husband also enjoy taking advantage of the amazing outdoor opportunities around Seattle, especially skiing (cross-country and downhill), running, cycling, and hiking.
Silvia Gonzalez
Silvia González is a mother and has been an immigrant domestic worker for about 15 years. Silvia has combined her work of cleaning houses with work as a staff member of Casa Latina for the last five years. This helps her see the real needs of her compañerxs domestic workers and to make sure that their voices can be heard and that changes can be achieved in this labor sector.  Silvia has also been part of the Board of Directors of the National Domestic Workers Alliance (NDWA) for three years, where they are currently working on the Bill of Rights for domestic workers at the national level and the launch of Alia (portable benefits for workers who clean houses). Silvia played a very active role in the campaign to pass the bill of rights at the local Seattle level as an organizer for domestic workers at Casa Latina. Silvia is part of the standard board of domestic workers, she is one of the co-presidents.