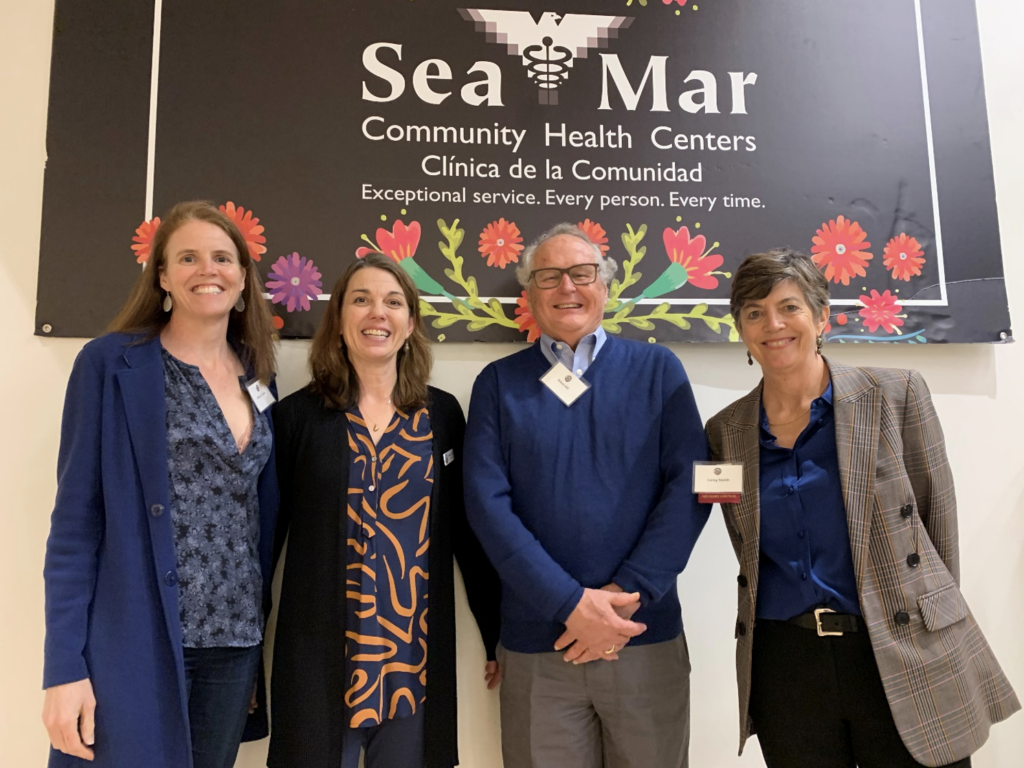 Young people have grown up aware of our climate crisis nearly their entire lives. The next generation will inherit this legacy, and they want to be part of the solutions. But to succeed they need knowledge, skills, and experience.
Four years ago, SVP Seattle selected EarthGen as a multi-year grantee, a groundbreaking organization that works throughout Washington State to equip and educate the next generation of environmental leaders.
EarthGen is a non-profit organization that focuses on helping young people gain the tools to become environmental changemakers. It has pioneered a science-based, action-oriented program that helps students and educators gain skills and knowledge to help our planet. The goal is simple: to make Earth healthier for generations to come. As this partnership comes to an end, EarthGen's refinement and growth merit a look back.
SVP's Seattle story with EarthGen began in 2018 when it was named Washington Green Schools (WGS). Then a six-year-old organization, EarthGen employed four people. It had a vision, and, in collaboration with SVP Seattle, it created and executed a four-year work plan.

A Productive Partnership
SVP Seattle began its multi-phase, five-year partnership by first selecting Carey Crutcher-Smith as EarthGen's Lead Partner. Then set to evaluate EarthGen's financial systems. EarthGen had just hired its first financial employee. Together, SVP Seattle Partner Bill Ellis and EarthGen developed a framework to guide a series of improvements to the organization's financial governance, planning, and operations.
Next, EarthGen set out to take care of its employees by adding benefits during a phase called "HR 1.0." Understanding that the non-profit sector is a competitive space for hiring and maintaining great staff, SVP Seattle Partner Megan Trainer assisted EarthGen in completing a community assessment of other organizations of the same size and the size it aspired to become. After this discovery work, EarthGen's implemented a phased benefit approach: phase one brought employees health and dental coverage. As the organization has grown, it has switched into phase two, introducing additional benefits.
EarthGen was gaining momentum. With the space to focus more on its work, it sought to align its Board membership to better reflect its recently adopted DEI policy. SVP Seattle Partner Melora Hiller facilitated important discussions on EarthGen's Board trajectory and composition.
SVP Seattle Partner Alexa Carver helped EarthGen to create a strategic plan. A framework of key questions helped inform their plan. A real-time strategic plan allowed EarthGen to respond to opportunities as they came up instead of being locked into a three-to-five-year plan. During this pivotal plan, it was receiving a large amount of funding and growing rapidly.

"Developing strong relationships with Meredith, Laura, other EarthGen staff members, board members, and advisory council members was my favorite part of this work. I felt a part of the 'family' and really appreciated a sense of community during the pandemic when I was a bit isolated, working from home. I am proud of the branding work we did together."
– Carey Crutcher-Smith, Lead Partner with EarthGen, SVP Seattle
A Rebrand Takes Root
With all these projects in place, the organization had a newfound capacity for its largest project, a rebrand, previously shared here. Until 2021, the organization had still been called Washington Green Schools. As it evolved and began realizing its vision, its stakeholder felt this name no longer represented what they were.
"The old name created confusion in the community; people confused us for a school," said EarthGen's Director of Advancement Laura Collins. "Having 'school' in the name centered us around having a building, and we wanted a name centered on youth."
The rebranded name "EarthGen" and its new logo perfectly captured the importance and urgency of the organization's work for this and future generations. The rebrand also helped as the organization sought to illustrate how Black, Indigenous, and People of Color are more likely to be heavily impacted and burdened by the climate crisis, and the name needed to show these programs are for ALL young people.
Next on EarthGen's Horizon
EarthGen's organizational growth and evolution over the past four years has inspired us at SVP Seattle. We see EarthGen's thoughtful work and collaboration with SVP Seattle Partners as a model of a mutually beneficial relationship that enhances not only organizational growth but also can make a transformational impact on a generation of young people and our community at large.
"Our SVP Seattle community is very proud – rightly so – of the trust-based and highly-collaborative relationships we invest in with our grantee Partners. I think EarthGen and SVP Seattle Partners involved in this project have set a wonderful example of the benefits this approach can deliver for both non-profits and donors engaged in the work."
– Emiko Atherton, Executive Director, SVP Seattle
There's no question EarthGen has galvanized strong relationships in the communities it serves and is experiencing exponential growth. In 2017, its programs touched only five schools in Eastern Washington; by the end of the partnership, EarthGen was in 150 Eastern Washington schools (and 500 statewide, up from 141!). By the 2023-24 school year, it aims to serve 900 schools statewide. It now staffs 11 full-time employees and has an annual budget that's more than quadrupled since the beginning of the partnership.
EarthGen will continue to expand and develop its programming, as well as focus on equity in environmental education. It is currently hiring its first non-Seattle-based employee, to better facilitate in-person interactions across the state and build community.
As this successful partnership draws to a close, Collins reflected on EarthGen's work with SVP Seattle. She credited candor as a key element in this transformative partnership.
"In the fundraising sector it is very rare to have a relationship with a partner that is so honest, where you can speak candidly about the areas where you are struggling," she said. "SVP's flexibility when needs emerged, and its open and honest communication helped move us forward when it mattered most."
Learn more about EarthGen and its vital programs online.