In January of 2021, Washington Green Schools formally became EarthGen. The new name, colors, and logo reflect the organization's vision to equip youth to become leaders in the fight against climate change and environmental injustice. The tag line, "Learning Sparks Action" reflects EarthGen's results orientation.
Outgrowing Washington Green Schools
Just over 10 years ago, Washington Green Schools (WGS) was founded as an organization to provide free environmental education curricula, program guidance, and classroom resources for K-12 schools. They aimed to help every child attend a green and healthy school that teaches, models, and practices environmental sustainability. Their original and longest-running program is School Certification which provides a framework for K-12 communities to take action and earn recognition for their commitment to making a healthier, more sustainable school campus.
"As we continued to provide more programs to advance our vision, the brand became limiting," explains Executive Director Meredith Lohr, "It became out of sync with our identity and the evolution of the organization." While the WGS team honors the core programs of the organization, each year they have taken this work further and have expanded toward a focus on environmental equity, climate change education, and climate justice. Although Washington Green Schools served the organization well in its early years, the name just wasn't keeping up.
Meredith shared that the staff, board, and volunteers found themselves spending more time explaining the name than getting to the why and how they do the work. They could tell great stories about their programs, such as Zombie Guacamole, Sustainable School Food, or its Environmental School Certification, but they were struggling to tell the bigger story about how they were centering youth as changemakers for a healthy environment.
Becoming EarthGen
While the work to become EarthGen happened over the last year, Lead Partner, Carey Crutcher Smith will tell you that the idea for transition from Washington Green Schools started four years ago when she was a member of the New Grant Committee. Quickly after EarthGen was selected as the next multi-year Investee, SVP Seattle asked Carey if she was interested in being the Lead Partner. At the time, Carey didn't know much about the role of Lead Partner and thought the four-year commitment was intimidating. After careful consideration, Carey believed her background in marketing and capacity building would help EarthGen in many ways.
Over the next four years, Carey, along with many other SVP Seattle Partners supported EarthGen with many capacity-building projects including reenergizing their board, evaluating their finances, and real-time strategic planning. Each project allowed EarthGen to continue to expand its services to provide science-based, action-oriented programs for young people to become leaders for climate solutions and environmental justice.
With the expanded capacity and clarity about its future, EarthGen was ready to tackle the rebranding project. In the discovery phase, stakeholders provided valuable feedback. "We just heard from people repeatedly that they thought of our services as "nice to have", not services that you "need to have," said Carey. Also, EarthGen staff and donors had a really hard time telling people what we did and why it was important" They knew the rebranding had to communicate the importance of the work and the urgency around equipping youth to become leaders in the fight against climate change and environmental injustice.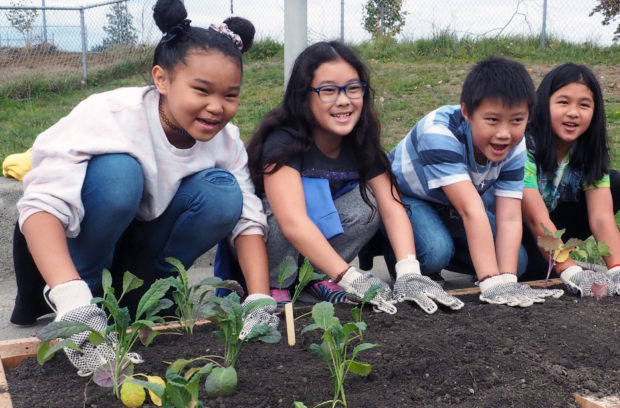 Beyond just guiding and supporting youth as changemakers, EarthGen recognizes that BIPOC (Black, Indigenous, and People of Color) communities are disproportionately affected by environmental issues such as climate change, limited access to natural areas, and food insecurity. So EarthGen rethought a lot of the language that they used to reflect who they actually are as an organization. EarthGen is focused on making environmental education accessible to ALL kids.
From the brainstorming sessions to the design to the rollout, Carey provided crucial leadership to make EarthGen happen. "We could have not done this without the support of Carey," says Laura Collins, EarthGen's Director of Advancement. "Rebranding an organization is a huge undertaking – and not something any of us had experience with. She was in every meeting, coaching and advising us throughout the process. She was a key part of getting this right." EarthGen now has a name that focuses on the larger story of the organization; to equip youth to grow their power as changemakers for a healthy environment.
Go check out EarthGen's new website to find out how you can further their crucial work. While there sign up for their newsletter and follow them on social media.