Special Session: SVP Seattle Advocacy Affinity Group
August 22, 2022 @ 12:00 pm

-

1:00 pm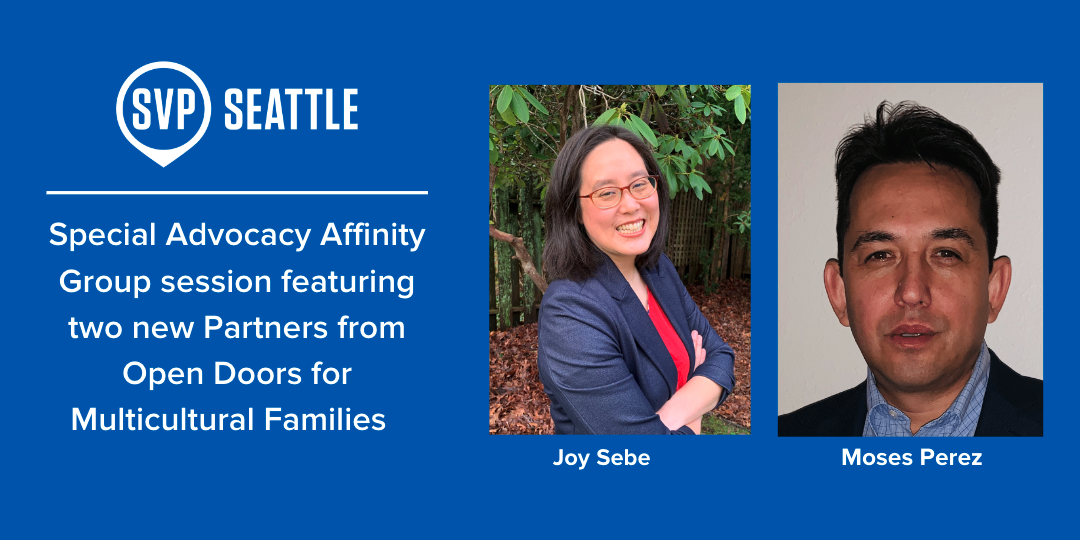 SVP Advocacy Affinity Group
Join us for this special meeting of SVP Seattle's Advocacy Affinity Group. Open Doors for Multicultural Families (ODMF) will join us along with two new SVP Seattle Partners Joy Sebe and Moses Perez, who both work with ODMF.
More about our Advocacy Affinity Group.
We want to provide a space for SVP Partners to connect together in an Advocacy Affinity Group. We envision:
A group of SVP Partners interested in advocacy,
Who eagerly show up for open meetings, when they can or have specific ideas to promote,
Generate excitement around some sort of advocacy initiative (like creating a book group or getting behind a proposed state law) and spin-off and get things going,
Create an opportunity where Partners can learn from each other and share what advocacy they are doing and,
Determine the focus and organization of this group going forward.
We meet on the third Monday of each month.
If you are interested in joining, please email Tara Hedyati at tarah@svpseattle.org