By Tali Rausch
My son was diagnosed with multiple learning disabilities in third grade. As I've worked to get him the academic support he needs to be successful, I've encountered multiple obstacles and learned what many families and educators have been well aware of — that Washington state's public schools are constantly struggling to meet students' support needs due to an arbitrary limit on state special education funding.
The formal processes were in place to recognize my son's need for support and to develop an Individualized Education Plan (IEP) as required under the American Disabilities Act (ADA). But the implementation of the accommodations that he had a legal right to were hardly ever provided unless I stepped in and personally advocated for him.
What I didn't know at the start of our family's journey is that special education is chronically underfunded in Washington. There is simply not enough state revenue to pay for much needed special education staff. While the intentions on the part of school administrators and teachers are good, the fact is that K-12 teachers are often overwhelmed with the high number of kids in the classroom and cannot give the students with IEPs the attention and support they need.  And there are not enough aides, paraeducators, or special education teachers in classrooms;  every public school in Washington is "funded for just .8 of a paraeducator, on average. You read that right, the state covers less than one full-time paraeducator per building — even in schools with dozens of special education students."  (Seattle Times Editorial, April 7, 2023)
"I teach science at a high-needs high school. My students practically beg for more time after school to get help on their work. But because of funding inadequacies there's no transportation for them (if they stay late).  So instead they go home and have to fend for themselves. If we were actually funded as we're supposed to be, these students would be able to understand the work assigned and succeed."
— Paul Chonka, Arts & Technology High School, Marysville School District
Because of the vacuum of support, we decided to hire a private tutor to work with my son several days per week. This is not a solution that is economically viable for many families. Under our state's system, special education becomes a privilege, when it should be a right. And children with special education needs from low-income backgrounds are most likely to be neglected and unable to fulfill their academic potential, which often has crushing consequences for their long term ability to thrive.  
I would argue that special education has gone underfunded for so long because families who can afford to, such as ours, are able to hire private tutors or send their children to private schools with smaller class sizes, more tutoring staff, and 1:1 support. Meanwhile, inequities get entrenched and systematized, and children whose families cannot afford extra support through tutoring or private school struggle and fall behind. 
Students with disabilities in Washington state have some of the lowest outcomes in the country; they fall behind and have significantly lower graduation rates than their peers.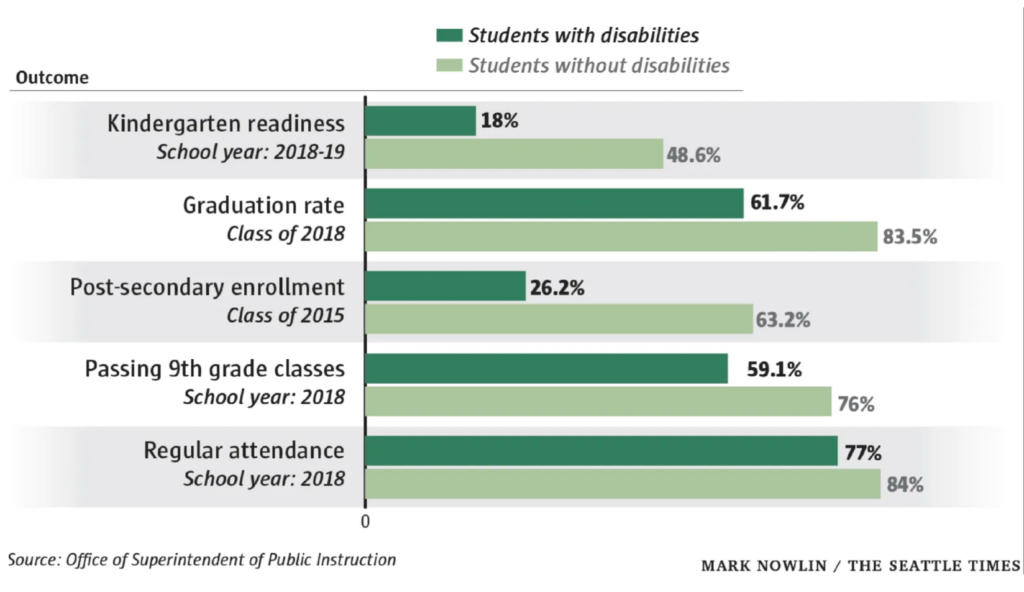 A Case Study of Compounding Inequities:  PTA Funding at Bryant Elementary School
What happens when parents privately fund reading and math tutors in a public school?  PTA funding, which is generated by parents' donations and varies based on a school's local socio-economics, exacerbates the inequity of access to academic support in Washington state. A good example of this is our neighborhood elementary school, Bryant Elementary in north Seattle, where the PTA has raised over $250,000 annually, on average, each of the last five years. This private funding allows the school to hire reading and math specialists and tutors and provide critical support for children who need extra academic support and individualized instruction.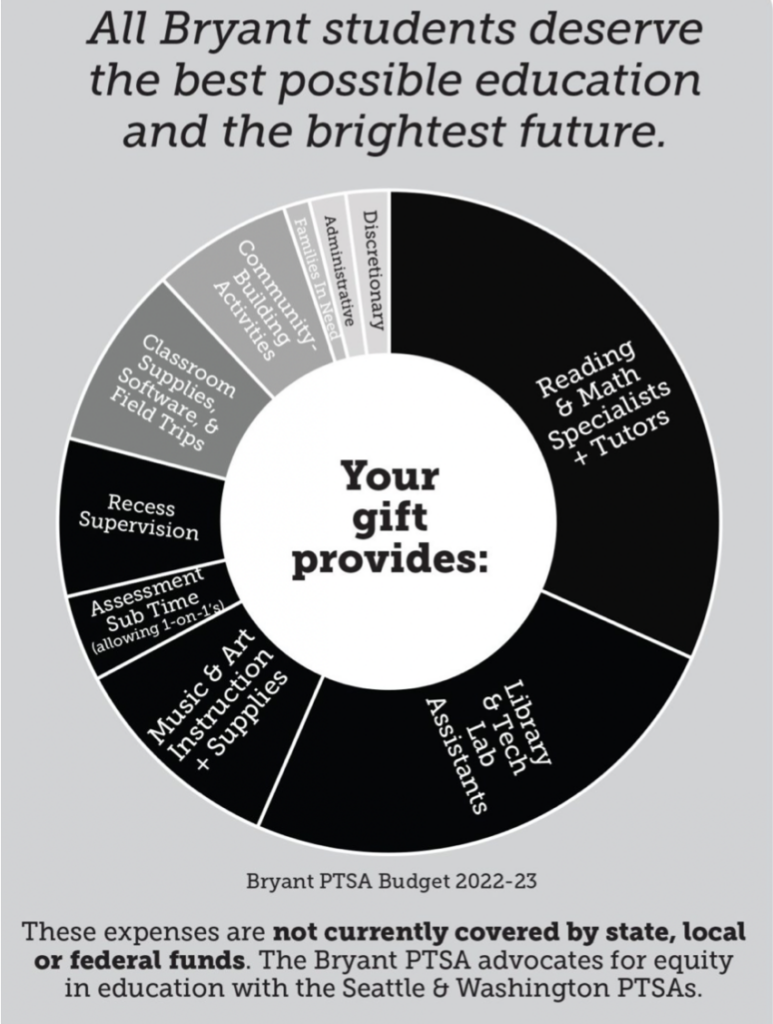 The headline of this graphic, "All Bryant students deserve the best possible education and the brightest future", inadvertently highlights the systemic inequity that private funding exacerbates. Can't we all agree that "all Washington state students deserve the best possible education and the brightest future"?  If we agree on that, then we can agree on the need to generate revenue on the state level to meet the need for special education teachers and specialists in the 2,474 public schools across the state. 
Left: A graphic encouraging parents to donate to the Bryant Elementary School PTSA to provide critical staffing and services during the 2022-2023 school year.
How can we fully fund special education in Washington state?
The estimated cost to cover the needed special education staff in Washington's public schools is $500 million per year. This funding would allow schools to provide special education instruction and support to special education students who have a legal right to access general education.
How can we, the tax-paying public, generate an additional $500 million in tax revenue annually to fully fund special education? Here is an overview of the policies being discussed by our lawmakers as economic levers that can be pulled in lieu of a state income tax (which was voted down in 2010).
A

Wealth Tax

, if passed, could generate $3 billion per year in revenue that would go to K- 12 public schools, housing, developmental disabilities services, and tax justice.

Passing

Estate Tax Reform

could generate $60 million per biennium (that would be dedicated to address equity in homeownership and homelessness).
As an aside, a capital gains tax was passed during the 2021-2022 legislative session and upheld by the Washington State Supreme Court. In 2023, the tax generated over $800 million which is earmarked for child care, preschools, and renovating, repairing, and building schools.
I feel compelled to speak up and advocate for new revenue streams to fully fund special education so that all children can access the academic support they need to thrive. Specialized tutoring and instruction for children with learning and physical disabilities should not depend on where a school is located, how much a PTA can fundraise, or whether families have the financial means to supplement their child's education with private tutoring or opt out of the system by sending their child to private school.
Oftentimes, these issues appear overwhelming due to their complexity and seemingly permanent entrenchment. But priorities are identified and systems are created collectively by everyday people over time and can be changed over time, and leaders at the community level have been thinking about and working on policy solutions to address this crisis for years.
If you're interested in these issues and passionate about educational and economic justice, there is a lot already in motion that you can contribute to.
Join us on November 9th for a panel discussion on current and future policies that address the special education funding gap and help people overcome systemic poverty and wealth inequality. We will hear from civic and organizational leadership, answer questions, and engage in robust discussion.
We also have another event in our series on wealth inequality on November 27th – see below to learn how you can lend your voice to advocating for progressive change.