What does the intersection of culture, sustainability, and equity look like in practice?
Refugee and immigrant women have the highest unemployment rate in the United States. Many organizations help these uniquely vulnerable women navigate language barriers, cultural differences, and other challenges – but one local organization has an exceptionally empowering and inclusive approach. Meet Refugee Artisan Initiative (RAI): an SVP community partner and pioneer in using artisan skills training to set women on a path to self-sufficiency.
Ming-Ming Tung-Edelman founded RAI in 2017 to help immigrant women gain financial independence. Tung-Edelman immigrated to the US from Taiwan over 33 years ago. After getting an education and becoming a pharmacist, she sought out ways to give back. Inspired by her grandmother, who supported her family of three as a seamstress, she recognized the opportunity for women with similar skill sets as her grandmother to earn a livable income on their schedules. From this idea, RAI was born.
About RAI's work 
Refugee women working for RAI come from Afghanistan, Ethiopia, Myanmar, and beyond, building community and economic independence in the new city they call home. RAI's programs offer these women the tools, additional training, and guidance needed for each artisan to become independent contractors running their own micro-businesses.  Each woman can set their own schedules and can work at home. Their work consists of a mix of paid projects (through RAI) and independent work, allowing for maximum flexibility.
Over time, RAI's work has transformed in response to the skills in its community and the needs of its customers. For example, during the COVID-19 pandemic, supply chain shortages on masks and medical scrubs became a social impact and business opportunity. RAI sewed 80,000 facemasks using returned, clean, and unused bedsheets from Amazon, for front-line workers during the height of the pandemic. It has continued working with healthcare organizations by regularly sewing scrubs for various hospitals in the greater Seattle area, using donated fabric from Amazon to reduce waste and costs. In addition to its healthcare clients, RAI has partnered (since inception) with 60 other local companies, sewing products ranging from tea towels to tote bags.
Using almost entirely donated materials to manufacture in small batches, RAI is committed to the same values of sustainability that many refugee and immigrant artisans practice as second nature, part of their cultural upbringing and values. The organization has maintained its collaboration with Amazon, which involves receiving a donation of returned bedsheets on a quarterly basis. Additionally, it receives fabric contributions weekly from the public. Products like this would normally be thrown out as they cannot be resold. Through its upcycling work, RAI saved 5,000 pounds of fabric from landfills in 2021. In 2022, they diverted 15,000 pounds. 
Word of mouth travels quickly on the opportunities RAI has to offer, and a waitlist for training opportunities is growing (currently more than 63 women are waiting). As RAI continues bringing even more women into the workforce and supporting fledgling micro businesses, expanding the business operations and development support RAI offers (tax prep, business licensing, etc.) will require additional funding and capacity building.  
What does the future hold for RAI? A capital campaign is underway to fully utilize RAI's existing space, reclaiming current portions of the building that are unheated to create a showcase space for artisans. This will open up more collaboration space and create new opportunities to share artisans' unique and specialized skills beyond production sewing (for example, RAI artisans recently created a dress for the Seattle Opera that showcased the masterful sewing and embroidery traditions from different regions in Afghanistan)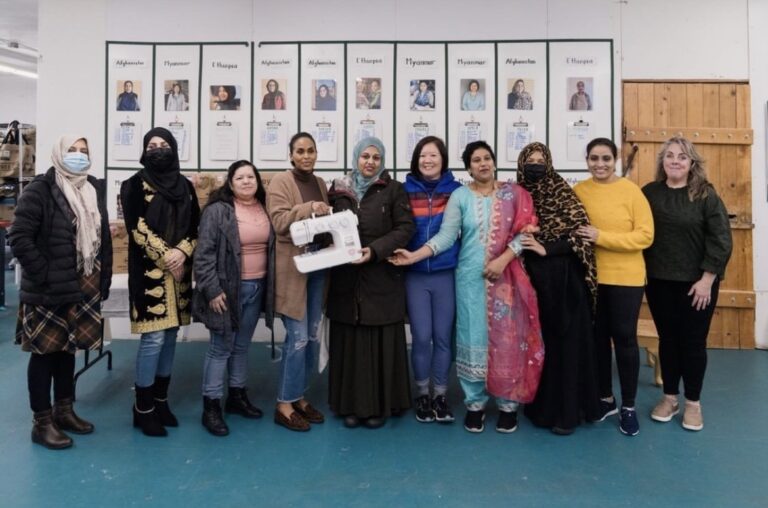 How you can get involved
There are everyday volunteer opportunities with RAI supporting business operations through hands-on activities like helping sort fabric donations or donating large fabric remnants you have access to (donation days Monday-Thursday, 10:30 AM to 3:00 PM, view volunteer info here).
RAI is also looking for longer-term hands-on skilled volunteering support, for activities like joining production committees for upcoming events, or supporting staff through communications and outreach. Contact info@refugeesarts.org for more information.